There were speculations going that there is a brand new Breaking Bad movie in the making. And Netflix blessed us all with a brand new teaser and the release date.
So, brace yourself all the Breaking Bad fanatics because El Camino: A Breaking Bad Movie is coming to Netflix on October 10, 2019.
If you haven't watched the show yet, you're missing out on the greatest TV experience of a lifetime, believe me. But I'll get back to that in a while. Also, there are a lot of spoilers so read on your own risk.
Let's talk about the film that's coming first.
Watching the teaser, it's clear that El Camino is the story of Jesse Pinkman (Aaron Paul).
As the final episode "Felina" aired six years ago on September 29, 2013, all of us wondered what happened to one of the show's beloved character, Jesse Pinkman.
Because the last time we saw Pinkman, he was speeding off in a stolen Chevrolet El Camino, flying through the exterior gates of the Nazi Compound.
Actor Aaron Paul has kept mum about how the story continues. However, Netflix has given a brief plot summary of the film.
It states "In the wake of his dramatic escape from captivity, Jesse must come to terms with his past in order to forge some kind of future."
Watch the teaser below.
(Video)
Now, let's talk about the actual series itself and how it is the greatest TV series of all time.
The Characters and Their Buildup.
There are a few shows that have been dubbed the greatest shows of all time. For example The Sopranos and The Wire. Game of Thrones was also on the running, but the final few seasons
However, Breaking Bad is in a league of its own. Vince Gilligan, the show creator made sure that the characters he created grew as the series progressed.
Every character, from Walter White, aka Heisenberg (Bryan Cranston) to Walter White Jr. (RJ Mitte) has had an amazing development.
We see Walter White as a protagonist when the series begins. A high school chemistry teacher turned a drug-lord. And as the show progresses he slowly turns into an antagonist that we still love.
In fact, his character was so good that he received a fan letter from acting legend Sir Anthony Hopkins admiring his role and saying it was the best acting he has ever seen.
Jesse Pinkman similarly is an ordinary drug addict who is also Walter's former student.
But as the show progresses, his character turns into this sympathetic drug dealer who is filled with guilt and remorse for everything he has done.
Other characters like Hank Schrader (Dean Norris), Walter's brother-in-law and a DEA agent and Skyler White (Anna Gunn) Walter's wife, also turn into characters people connect to very easily.
Saul Goodman (Bob Odenkirk) is also one of the most impressive and iconic characters in television history.
Bob Odenkirk's character of a crooked strip mall lawyer was so good that it got a spin-off of it's own called Better Call Saul.
Gustavo "Gus" Fring (Giancarlo Esposito) has to be one of the best TV villains ever playing such a huge character with so much ease.
Gillian was a writer and a creator of the characters definitely worked a lot and focused on the tiniest of details. And his hard work absolutely pays off.
Because when it comes to Breaking Bad, it's not just the main characters that are seen evolving and transforming along the way, even the smallest of characters have done justice.
So Many Epic Moments Throughout the Whole Series.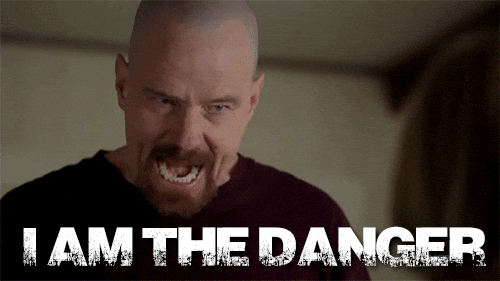 Breaking Bad, from the moment it aired on January 20, 2008, till it's very last episode on September 29, 2013, was filled with so many great moments.
Each one of the 62 episodes has its own highs with very little flaws.
From the pilot episode to the very last one, almost every episode had some sort of epicness in it.
Whether it's Walter and Jesse losing their minds over a fly, Walter watching Jane choke on her own vomit and die, Skyler losing her sense and walking into the swimming pool, Gus's half body getting blown off or Walter protecting Jesse while he kills every one of the Aryan Brothers off.
There are so many significant moments that even the worst Breaking Bad episode would be far better than some entire shows.
The Relationship Between Walter White and Jesse Pinkman.
Bryan Cranston as Walter White and Aaron Paul as Jesse Pinkman are two of the most iconic television duo. And it is proved by the amazing chemistry both the actors have on-screen.
Walter is Jesse's former high school teacher who is one of the very few people who was good to him in school.
But after school, he ruined his life and relationships due to his drug abuse and dealing.
When Walter discovers that he has cancer, he quits teaching and looks for an alternate career that can bring in enough money to provide for his family.
He then taps Jesse and the two of them start cooking meth.
Jesse respects Walter whom he calls Mr. White. And Walter too has a deep love and empathy for Pinkman.
Over the course of time, the relationship between this former teacher and student builds into something that is rather complex to understand.
It grows bitter for a lot of things they've done to each other, especially Walter.
Yet, they both have so much love and respect for one another deep down.
The relationship and the chemistry between the two actors are what keeps the show so strong, from the very first episode to the last.
Consistency.
Most TV series, whether drama, comedy or even thriller loses its impact along the way. Especially if it's running for a long time.
For example The Simpsons or Supernatural. Both of the shows have been running for way too long that it has lost its essence.
Even Game of Thrones was able to play with the emotions of its fan base as the show ended.
A lot of shows have a lot of flawed moments throughout the whole series, as long as it continues.
Some miss with the plot whereas some fall short on its character building.
However, Breaking Bad is one of the very few shows that remained consistent.
Whether it was the plotline, the build-up of the characters, or the storytelling, every aspect was spot on.
Honestly, there isn't a lot if any dull moment throughout the entire five-season of the show.
And every season and episode remains as consistent as possible. Keeping the audience grounded and wanting for more.
The Best Finale One Could Hope For.
The final episode or the series finale as one might call is probably the most important part of any television show.
It is this very moment, the very last episode that justifies the entire show. And if you miss the final episode, it would be the most wrecking thing.
For example, the final episode of Game of Thrones left millions of its fans unsatisfied and unhappy for a lot of different reasons.
But that wasn't the case with Breaking Bad fans and how the show ended.
In fact, the final episode of Breaking Bad, "Felina" has to be one of the most amazing finales in television history.
From when he is sitting in a bar watching the news to laying dead on the lab-ground and everything in between.
Every moment builds up so much tension as well as excitement inside you.
Breaking Bad certainly has the best finale any television series ever had and also is the greatest TV shows ever made.