We all order food online or go somewhere out to eat because we are too lazy to make it on our own.
However, those food might not be as per our taste or expectations. On the other hand, the food we eat in restaurants are generally not very healthy.
So, use this list to find out the best recipe for you and treat yourself.
Similarly, spending in cooked food items is far more expensive than making it on your own.
So, grab your pen and paper and write down these easy dinner ideas for the time you feel that way.
1. Fried Egg/Chicken Rice
As an Asian rice is something that I've grown up eating.
It is healthy and easy to digest. Moreover, it is not difficult to make and at the same time it tastes good.
Also, it is one of those easy dinner ideas for kids as well which they enjoy a lot.
With fried rice you can throw in any veggies that you have, add chicken or eggs.
You can add soy sauce or ketchup and as per your taste make it hot and spicy.
It is the perfect food for when you're hungry and cannot wait.
Try these fried rice recipes by Tasty
2. Mac and Cheese
This is easily one of the best comfort foods you can make.
Unless you're lactose intolerant, this food obviously makes you feel at home and warm.
Grab some macaroni, cream milk and cheese for the perfect indoor dinner.
There's lots of ways to make it and many things you could add.
For instance, you can make a simple mac and cheese or grill it to give that extra crisp.
Similarly, you can add your favorite herb to make it earthy and soothing.
So, try any one of these recipes from Tasty for you at home dinner.
3. Butter Chicken and Roti/Rice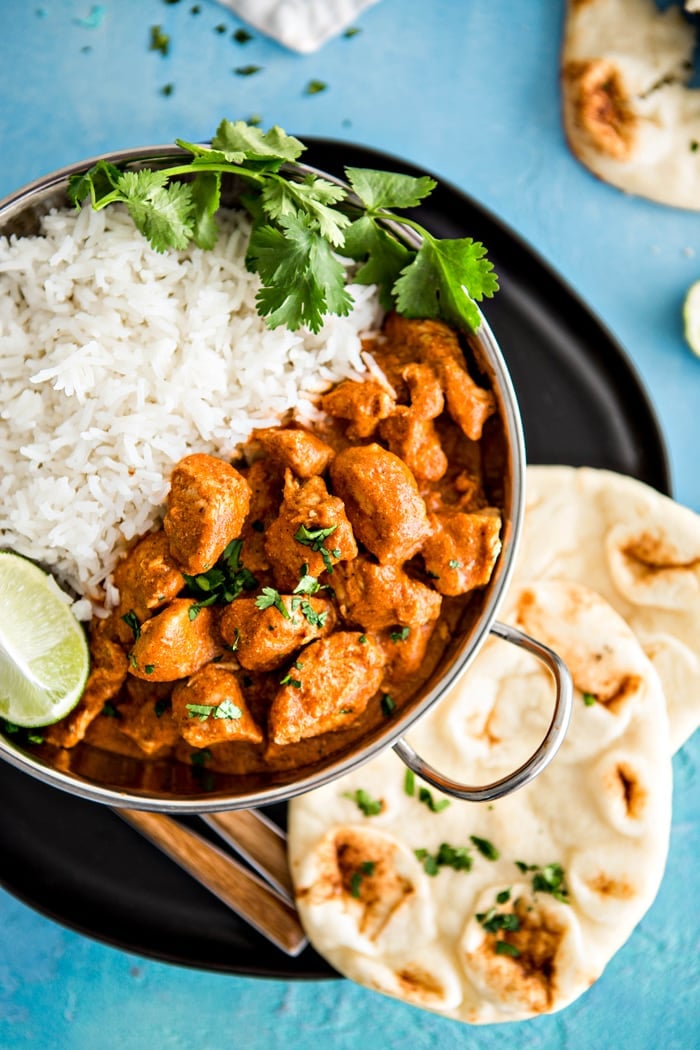 I bet you cannot resist the warmth of a chicken curry mixed with rice.
Personally, rice does the job for me since roti takes more time. Nonetheless, you can choose to make roti, if you want to cut off that extra carb.
However, it is best if you marinate your chicken in the mornings if you want to get the best taste out of it. You can cook the rice and the chicken simultaneously to save some time.
Still, there are ways to work round it if you wanna do it under 30 minutes.
Marinated butter chicken recipe by Donal Skehan
Non-marinated butter chicken recipe by Tasty
4. Beef with Broccoli
Although I say beef with broccoli, you can use any meat for one of these easy dinner ideas for two.
This is warm, healthy and tasty. The meat and broccoli easily make you full while you enjoy the taste all along.
You can cook this food for you or your family. You can even serve it to guests if needed.
Now, get a notebook and take down the recipe by Seonkyoung Longest.
5. Spaghetti Bolognese
This food is best for when you want to enjoy the taste of Italian pasta at home.
You can easily make this easy dinner under 30 minutes. Additionally, you can serve this food to guests in no time.
This effortless recipe is the way to go when you're hungry but don't want to spend too much time cooking.
Try this easy recipe by Donal Skehan 
6. Shredded Meat and Spinach Salad
A go to bowl of salad is one of the quick dinner ideas you can count on.
It is an easy dinner to make, its healthy and nutritious and you can add any ingredient you want.
You can fry the meat if you want, you can grill them or just cook them as you want. Dress it with some boiled eggs, olive and spinach with a drizzle of olive oil and lime juice.
Trust me you'll not be disappointed.
Try these simple easy but delicious salad recipes by Tasty.
7. Dumplings
How can I miss out dumplings as an Asian.
Just thinking about these small packets of tasty meat and the sauce makes my mouth watery.
This is the healthiest food among these 15 items. Yet, it's not difficult to make.
There are tons of ways you can make them.
So, watch these 4 different styles of dumplings by tasty. *Personally, if I were you, I'd try out the momo.
These 7 quick dinner ideas for two or many will not disappoint you. Make them at the comfort of your home and impress anyone if needed.